10 Highest Paying Jobs for International Students in Canada
Students can get the best paying jobs in Canada! Of course, we are talking about unskilled jobs, but what you earn per hour is enough to pay some bills.
This is possible thanks to the solid economy of this country. In major cities, the unemployment rate is quite low, so well-paying student jobs in Canada are available.
And what jobs are these? How much is the salary? We answer these questions in this article! In addition, we explain the requirements to work in Canada as a student. Hit the cursor!
*Disclaimer. All the figures that we share in this article are for reference and are subject to change.
High-Paying Student Jobs in Canada
Do you want a job that helps you pay for your studies and your stay? So, see what are the 10 best paying jobs in Canada for students and what skills each one requires of you.
1. Waiter
Many students who come to Canada decide to be waiters, because this job is very well paid. The hourly wage is around 14 CAD, but in one day, you earn up to 200 CAD in tips!
>>>> Why Study and Work in Vancouver, Canada in 2022?
Another advantage of this job is that it does not require a lot of experience. Of course, fluency in English (or French) is important and, also, you should have a good memory and know how to work in a team to take good turns.
2. Seller
Another of the most demanded jobs in Canada is that of salesman. Normally, the salary reaches 15 CAD per hour. The advantage is that many stores pay commissions, so you could earn a little more.
What do you need to be a seller? Well, have a good command of English (or French) and be persuasive. In addition, you must like customer service so that you do not lose patience with difficult customers.
3. Dog walker
This is one of the funniest jobs on the list. And one that pays very well, because they give you up to 22 CAD to walk a dog for 2 hours. Imagine what you would earn if you organize group rides!
>>>> Study in Canada: Step-by-Step Guide for International Students
The advantage of this job is that you can work at the hours of the day that suit you. And the only requirements for the job is that you are a dog lover and don't mind getting some exercise.
4. Babysitter
Babysitting is another of the best paid jobs in Canada for students. The number of days a week depends on the occupations of the parents, but you could earn between 15 and 35 CAD per hour!
Parents may not require previous experience, although that would give you extra points. The essential thing would be that you speak some English (or French) so that you can communicate with the little ones.
5. barista
Barista is another of the most common jobs for students in Canada. Across the country, there are small coffee shops and franchises where you can earn CAD15-30 per hour, not counting tips.
As a barista, you must know how to work with the public and handle English (or French). In addition, they may ask you for previous experience. The good news is that some coffee shops organize trainings for new employees.
6. Bartending
Another job for students is as a bartender. Of course, you should know that the schedule is quite exhausting and that the salary is 7 to 12 CAD per hour. However, there are cases where you can earn 75 CAD or more in tips!
>>>> Do I need an eTA if I have a Study Permit for Canada?
As in the case of baristas, you must know how to work with the public and have at least a little experience. If this is not the case, nothing happens! Take a course when you arrive in Canada and learn what you need.
7. A teacher's assistant
This is a low-demand, on-campus job. As an assistant, you earn up to 16 CAD per hour. Some of your tasks would be advising students, organizing any paperwork, and planning lessons with the teacher.
In general, you are required to have completed 1 year of studies to get this job. In addition, you are expected to be quite organized and have experience in the subject taught by the teacher.
8. Guardian
If you are an expert in a subject, why not give private lessons? There are tutors who earn from 15 to 20 CAD per hour. However, depending on the complexity of the subject, some charge up to 55 CAD.
To be a tutor, you must have very good knowledge of the subject you want to teach. And you need to be fluent in English (or French) so you can communicate with your students.
9. Translator or interpreter
Another job in Canada for students is a translator or interpreter. If you speak multiple languages, you can earn up to 22 CAD per hour translating documents or being a tour guide.
>>>> EVERYTHING you need to know about Visa Sponsorship
It is worth telling you that you must speak and write fluently in the languages ​​you master. Also, if you are looking for a job in a company, for example, they may ask you for additional skills.
10. Uber
Being Uber is a great alternative to study and work in Canada. On the one hand, because you work at a time that suits you. And on the other hand, you earn up to 26 CAD per hour! Not bad, right?
In addition to driving very well, you must meet other requirements. For example, having your driver's license up to date, the minimum legal age ( 21 to 25 years depending on the province of the country ) and your own car.
Requirements to work in Canada as a student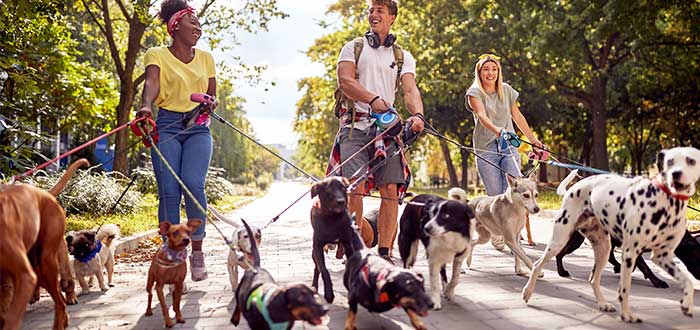 It is true that you can study and work in Canada . However, you must be of legal age and meet some requirements to do so legally; otherwise you would get in trouble! Look:
1. Have a valid visa to work
The study permit , that is, the Canadian student visa allows you to study and work at the same time. With this visa, you work up to 20 hours a week during school periods and full time on vacation.
The other alternative is the Working Holiday visa , which allows you to work without limit of hours while you study! The disadvantage of this visa is that you cannot do courses that last more than 6 months.
2. Do not take language courses
To work and study at the same time, you cannot take English or French courses! You have to enroll in an accredited post-secondary institution and take vocational or university studies.
Co – Op courses (technical programs) are a popular option because of their price and because they are shorter than college courses. Plus, since you can do internships, you gain professional experience before you graduate!
3. Process the Social Insurance Number (SIN)
The Social Insurance Number (SIN) is the social security number that citizens and permanent and temporary residents need to work in Canada . It is proof that you are eligible for employment!
In addition, you need it to participate in different government programs such as Job Bank. This is the government-run job bank, where there are more than 90,000 registered jobs!
4. Open a bank account
This is not a legal requirement, far from it. However, it is recommended that you open a bank account so that you can receive your salaries and that you can make any payment comfortably.
As part of our destination experience, our Experience Leaders explain everything you need to do to open your personal account. In addition, they go with you to the bank and advise you throughout the process.
Tips for getting a job in Canada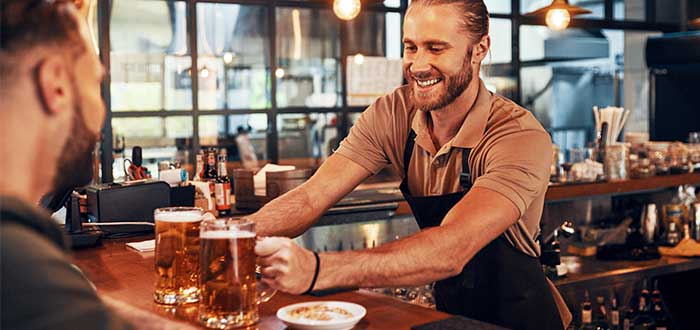 We want you to get the best paying jobs in Canada ! For this reason, we have prepared some tips for you to find a job that pays the bills in the first weeks of your arrival.
The first is that you adapt your resume to the Canadian standard , keep it simple! You do not need to include your photo, your date of birth, your nationality or non-relevant work experience.
And don't be shy about distributing it all over the city! Going from door to door gives very good results. Also, register with job portals like Job Bank, Indeed or Monster, and upload a digital copy.
Another tip is to network. Whether it's at school or at events, meet new people and tell them you're looking for a job, don't be shy! A good contact opens many doors for you.